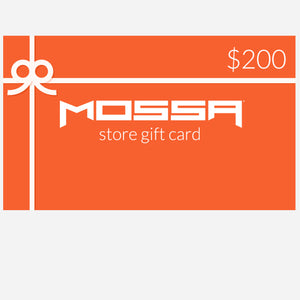 MOSSA Store $200 Gift Card
Give the gift of MOSSA with a $200 Store Gift Card (code). This gift code is good for the MOSSA store (this store only) and can not be applied elsewhere.
After purchasing this store gift card code, the code will be emailed to you via the email address you provide during checkout. You can then apply the gift card code (in checkout) towards future purchases.
Store Gift Cards can not be applied to shipping.
Store Gift Card is valid for 1 year from the day of purchase.
Any balance left on the card may not be used after the expiration date and the remaining funds will be lost, so make sure to use the entire amount on the card before the expiration. MOSSA Store gift cards are non-transferable and non-reloadable.