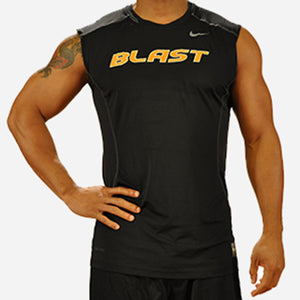 MOSSA Group Blast Men's Nike Pro Combat Fitted Sleeveless
Available in Black.
Breathable, Stretchable / Elastic Tank Top. Sleeveless crew neck design. Lightweight, Hypercool 2.0 four-way stretch fabric offers enhanced mobility. Bold combat-grade, center back neck band. Compressed fit. Back panel mesh is zoned for breathability to help keep you cool. Low-rise collar.
92% Polyester, 8% Spandex. Machine Wash.
Apparel orders to Japan not available at this time.