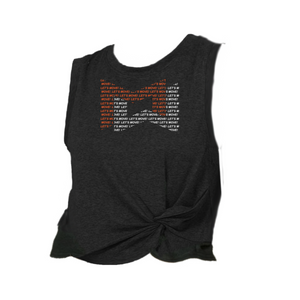 MOSSA Women's LET'S MOVE Repeat Logo Side Knot Tank
Available in Black.

This cropped tank features a relaxed fit and side-knotted design with slightly oversized armholes. 94% Polyester and 6% Spandex provide soft, lightweight feel that is comfortable and breathable. Orange/white logo is screen printed.
Apparel orders to Japan not available at this time.